The spring and summer is a big wedding season. Informal and destination weddings are more popular than ever. With the recent slumping economy, many couples have chosen to combine the wedding with the honeymoon. The need for less formal wedding dresses has risen and Jan's Boutique has a beautiful selection of dresses for the informal or destination bride.
Tony Bowls
makes sought after gowns that are perfect for this occasion. Take a look at three of the most popular. If you'd like to view more, go to www.jansboutiqueonline.com.
Tony Bowls 211C68
: This charmeuse gown has elegant beading on the bodice with a deep plunging neckline and flowing skirt.
Tony Bowls 211C70
: This charmeuse gown will make any girl feel like a grown up princess.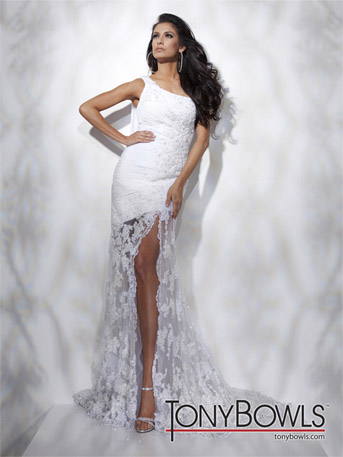 Tony Bowls 211C71
: This beaded lace chiffon gown is both sexy and elegant.